Nassau Personal
Retirement Choice
®
Personal Retirement Choice
Product Overview
Snapshot
Portfolio Position
Personal Retirement Choice offers a premium bonus to accelerate retirement income for clients.
Consumer Description
Personal Retirement Choice is a single-premium fixed indexed annuity, including a premium bonus at issue, potential for growth with positive market performance, and an optional Guaranteed Lifetime Income Benefit rider that guarantees income payments every year for life.
Riders
Personal Retirement Choice offers an optional guaranteed lifetime income benefit rider for an additional fee.
Marketing Materials
Learn more about fixed indexed annuities
Sales Support
Sales Tools
Required Training
Product Specifications
Rates for new contracts effective: January 2022
Core Product
| | Min | Max |
| --- | --- | --- |
| Issue Ages | 0 | 80 |
| Premium | $15K | $1M |
| | |
| --- | --- |
| Annual Free Withdrawal | 10% |
| MVA | Yes |
| | |
| --- | --- |
| Indices | |
| Available Rider Disclosures | |
Allocation Strategies
Sample Contract
Rider Disclosure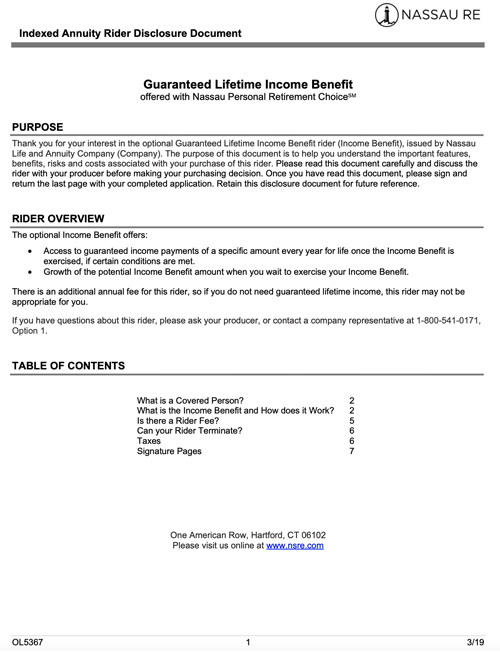 ---
Important Disclosures
For Producer Use Only. Not for distribution to the public.
Product features, rider options, and availability may vary by state. Product sales must be appropriate based on a comprehensive evaluation of the customer's financial situation, needs, and objectives. Guarantees are based on the claims-paying ability of the issuing company. Nassau does not provide financial, investment or tax advice or act as a fiduciary in the sale or service of its products.
Annuities are long-term products particularly suitable for retirement assets. Annuities held within qualified plans do not provide any additional tax benefit. Early withdrawals may be subject to surrender charges. Withdrawals are subject to ordinary income tax, and if taken prior to age 59½, a 10% IRS penalty may also apply.
Products offering a bonus may offer lower credited interest rates, lower participation rates, lower caps and/or higher spreads, and have higher expenses than products not offering a bonus. Over time, and under certain circumstances, the amount of the bonus may be more than offset by the increased charges, lower credited interest rates, lower participation rates, lower caps and/or higher spreads.
Interest rates, participation rates, spread rates, caps and strategy fees are subject to change. All indexed account credit calculations exclude dividends. While the value of each indexed account is affected by the value of an outside index, the contract does not directly participate in any stock, bond or equity investment. Dividend payments and distributions are not received from any index or component of any index. Nassau may change, add or eliminate indexed accounts. Certain accounts may not be available in all states. Although index credits are never less than 0%, it is possible for the contract to lose value if index credits are less than fees. Riders involve an added fee that is deducted from the contract value.
Non-Security Status Disclosure – The Contract is not a Security. The Contract is not registered under the Securities Act of 1933 and is being offered and sold in reliance on an exemption therein.
The "S&P 500 Index" is a product of S&P Dow Jones Indices LLC or its affiliates ("SPDJI") and has been licensed for use by Nassau Life and Annuity Company and its affiliates (collectively, "Nassau"). Standard & Poor's®, S&P 500® and S&P® are registered trademarks of Standard & Poor's Financial Services LLC ("S&P") and these trademarks have been licensed and sublicensed for use by SPDJI and Nassau, respectively. Nassau products are not sponsored, endorsed, sold or promoted by SPDJI, S&P, or their respective affiliates, and none of such parties make any representation regarding the advisability of investing in such products nor do they have any liability for any errors, omissions, or interruptions of the S&P 500 Index.
The CS Tactical Multi Asset IndexTM is sponsored and published by Credit Suisse. Nassau has entered into an exclusive license agreement with Credit Suisse providing for the right to use the CS Tactical Multi Asset Index and related trademarks in connection with Nassau indexed annuities. Credit Suisse has not published or approved this document, and the annuities are not sponsored, endorsed, sold or promoted by Credit Suisse. Credit Suisse makes no representation or warranty, express or implied, regarding the advisability of investing in the annuities, and has no obligation or liability in connection with the administration, marketing or sale of Nassau annuities.
The CS Tactical Multi Asset Index was launched in 2014. Any index performance shown in illustrations and hypothetical examples for periods prior to the index launch dates is based on historical backcasting using hypothetical data. Past performance is not indicative of future results.
Nassau Personal Retirement Choice (19FIA, ICC19EIA, 19ISB and 19GLWB2) is issued by Nassau Life and Annuity Company (Hartford, CT). In California, Nassau Life and Annuity Company does business as "Nassau Life and Annuity Insurance Company." Nassau Life and Annuity Company is not authorized to conduct business in MA, ME and NY, but that is subject to change. Nassau Life and Annuity Company is a subsidiary of Nassau Financial Group.
Insurance Products: NOT FDIC or NCUAA Insured | NO Bank or Credit Union Guarantee
BPD40792 12-21
FOR PRODUCER USE ONLY