Nassau Growth Annuity®
Enhance your plans for a sound retirement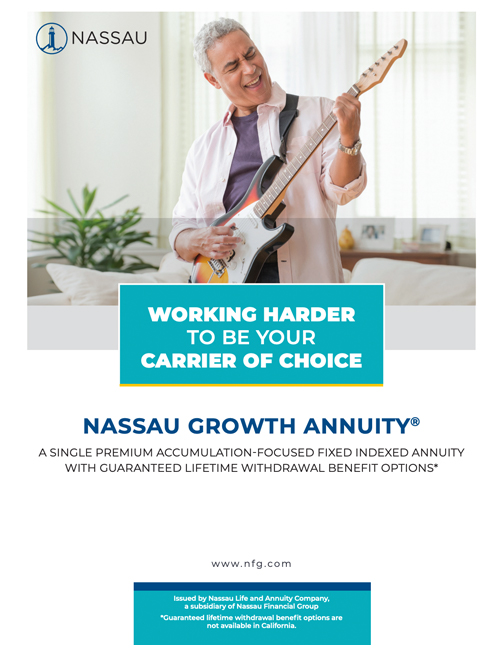 Nassau Growth Annuity is a single premium accumulation-focused fixed indexed annuity with guaranteed lifetime withdrawal benefit options. It offers options to help contract holders accumulate money by leveraging several indexed accounts which earn interest based on the positive performance of one of two indices, all while providing tax-deferred growth and protection from market losses. Nassau Growth Annuity can help individuals build on their contract growth for their future income needs when the Amplified Income or Amplified Income Plus riders are added, for an additional fee by leveraging their features to potentially boost their income payments.
Nassau Growth Annuity helps:
Capture the positive performance of a market index to accumulate value through indexed accounts
Guard against market losses with principal protection
Grow and secure future guaranteed lifetime income with an optional rider**
Ensure clients' liquidity needs are met with flexible access to their money*
*Withdrawals in excess of the Free Withdrawal Amount will incur charges and penalties. See the product disclosure for additional details.
**Optional guaranteed lifetime withdrawal benefit riders not available in CA.