Working harder


to be your
carrier of choice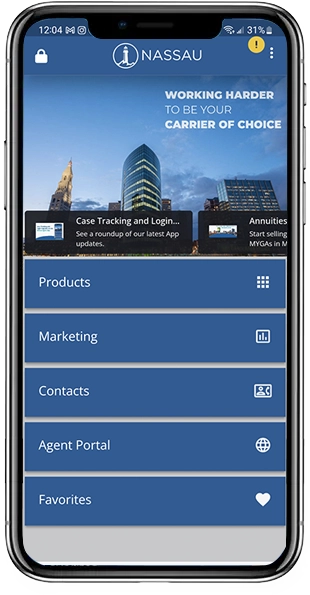 Nassau Agent App
Take Nassau everywhere you go with our mobile app. Get sales support and contact our team quickly from your mobile phone or tablet. Download it today!
Case Status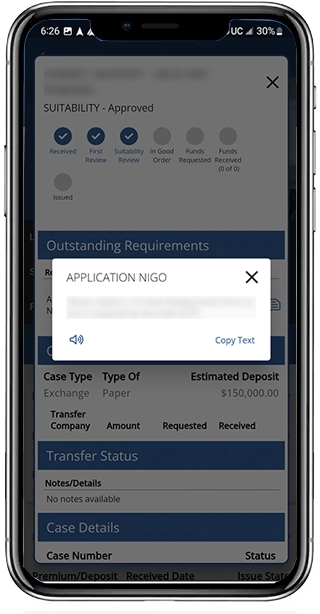 Easily access case status under My Business. Use audio notes for the latest open requirements to be read to you while you're on the go.
Product Positioning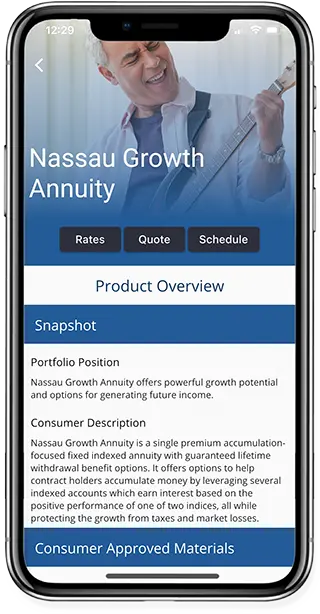 Get product features, consumer positioning and rates for our suite of fixed and fixed indexed annuities. Also includes a click-to-share option for consumer approved marketing materials.
Service Forms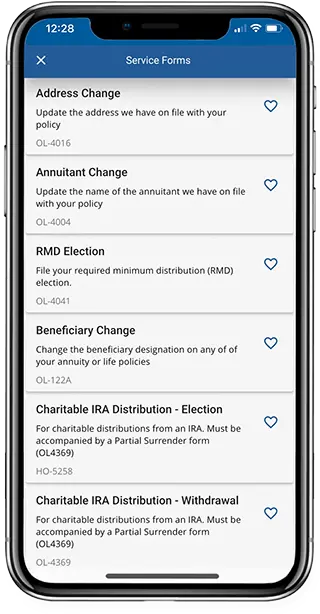 View the most common forms and print, email, or text them on request.
Marketing Resources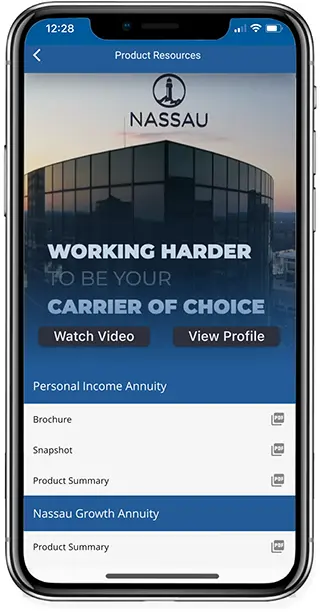 One stop resource to view and easily share our marketing materials, like our corporate profile and product brochures.
Nassau News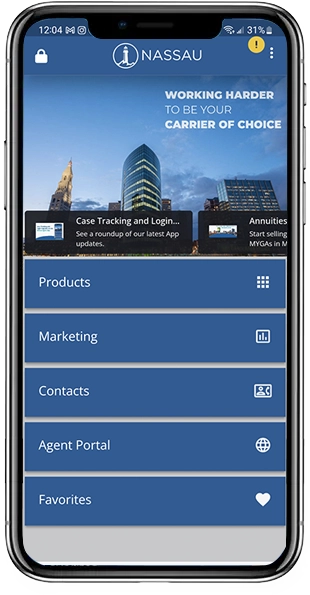 See highlights of the latest Nassau rates, product, and service enhancements.
Elite Scoreboard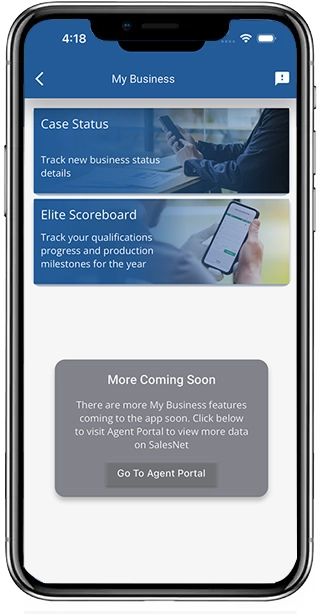 Log in and select My Business to track your progress in qualifying for our Elite program.1
Rates by State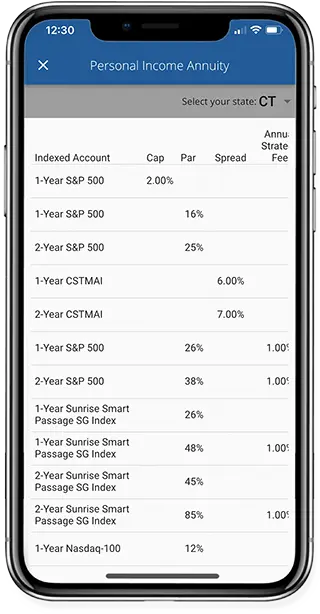 View state-specific rates and surrender charge schedules for each product.2
Favorites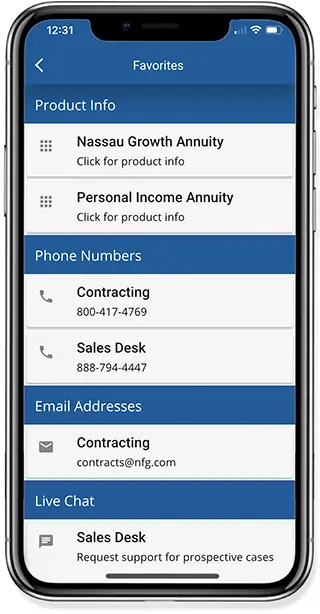 Save time and set your most frequently used in-app resources and contacts for one-click access.
1. Eligible products include Nassau Bonus Annuity, Nassau Growth Annuity, Personal Income Annuity, Personal Protection Choice, MYAnnuity 5X, 7X and Nassau Simple Annuity. $3 of non-NY MYGA placed premium equals 1 qualification credit. $1 of FIA placed premium equals 1 qualification credit. $1 of Medicare Supplement annualized, placed premium equals 14 qualification credits. Call our sales desk for more details.
Eligible products are subject to state approval and may not be available in all states. Producer must be contracted and in good standing to receive incentives. Final qualification remains at the sole discretion of Nassau. This is not an all-inclusive list of the Nassau Elite 2023 qualification criteria and rules. Please click here for additional information and qualifications.
Qualification may not be transferred to another appointed individual/agent. Some event expenses related to you (and your potential guests) that are associated with the Nassau Elite Producer Program may be taxable to you and reported on a 1099-NEC. You should consult your tax advisor if you have questions about the tax treatment related to any event-related expenses or your individual situation. Nassau is unable to substitute cash equivalent or awards in lieu of attendance. Invitation and final event details remain at the sole discretion of Nassau.
2. Rates pictured are for illustrative purposes only. Please click here to view our current rates. Nassau reserves the right to change declared rates at any time.
Quick view of product rates by state
Single click access to our sales desk and service teams
Easily share consumer brochures from your device
Receive breaking product news
View marketing materials and sales ideas
Track progress on cases and commissions
One click access to your saved in-app Favorites
Run illustrations and submit eapps from the same screen (Tablets only)
Disclosures
For producer use only. Not for use with the general public as sales literature.
Product features, rider options, and availability may vary by state. Product sales must be appropriate based on a comprehensive evaluation of the customer's financial situation, needs, and objectives. Guarantees are based on the claims-paying ability of the issuing Company. Nassau does not provide financial, investment or tax advice or act as a fiduciary in the sale or service of its products.
Nassau Growth Annuity (19FIA3, ICC19FIA3, 19GLWB3, ICCGLWB3), Nassau Personal Income Annuity (ICC19EIAN,19FIA and 19ISN), Nassau Personal Protection Choice (ICC19EIAN, 19FIA and 19RN), Nassau Personal Retirement Choice (19FIA, ICC19EIAN, 19ISB), Nassau MYAnnuity 5X/7X (ICC18IFDAP, 18IFDAP) and Nassau Simple Annuity (18FADTCP and ICC18FADTCP) are issued by Nassau Life and Annuity Company (Hartford, CT). In California, Nassau Life and Annuity Company does business as "Nassau Life and Annuity Insurance Company." Nassau Life and Annuity Company is not authorized to conduct business in ME and NY, but that is subject to change. In New York, Nassau MYAnnuity 5X (Form17IMGA) is issued by Nassau Life Insurance Company (East Greenbush, NY). Nassau Life and Annuity Company and Nassau Life Insurance Company are subsidiaries of Nassau Financial Group. The insurers are separate entities and each is responsible only for its own financial condition and contractual obligations. The Apple logo and App Store are registered trademarks of Apple Inc. Google Play is a trademark of Google LLC. The downloading and use of the Nassau Agent App is subject to terms and conditions. Standard mobile phone carrier and data usage charges may apply.
Insurance Products: NOT FDIC or NCUAA Insured | NO Bank or Credit Union Guarantee.
BPD: 40902